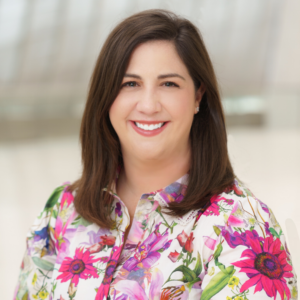 Abbie Kauffman joined Network of Community Ministries as the CEO and President in September. Abbie has a passion for social services, and she is working hard to assist Network in completing and expanding our mission of caring, coaching and empowering our neighbors in need.
Tell me a bit about yourself.
I was born and raised in the Dallas area. I actually attended RISD schools for a few years in my childhood, so I was right here in our service area. Dallas is truly my home, and I'm so excited to have this opportunity to make a difference in a community that I hold near and dear.
What is your professional background?
I went to college at the University of Oklahoma, where I got my bachelor's and master's degree in communications. When I finished my master's, my husband and I moved to Midland, Texas— where he's from. I didn't know what I wanted to do with my career. My degree was focused on data science and research in communications, so I applied to be a data scientist at the University of Texas at Permian Basin in the office of student success data. The interviewer encouraged me to apply for a fundraising position for the university, and that little nudge truly changed the trajectory of my life. 
Eventually, I got the opportunity to serve as the director of development at a mental health and social services nonprofit that served the Permian Basin. I learned a lot about governmental funding and events management in this position, and I also got the opportunity to lead a capital campaign, which taught me more about how a facility can impact an organization's services.
In 2015, my husband and I packed up and left west Texas to come back to Dallas. It was my home, and I knew there were some great opportunities for us in the area. I was very fortunate to start as a director at Jewish Family Services overseeing communication. I learned so much about the nonprofit industry and what wraparound services can look like. Eventually, I moved into a director of development role there, focusing on fundraising. I've been really intentional about seeking opportunities in my career path that allow me to impact more neighbors and really understand the challenges that face the north Texas area.
Were you always interested in working in social services?
Well, yes and no. People are truly my passion. As a child I thought I might go into some form of ministry, but throughout my career I've learned that what we do every day can be a form of ministry. We truly exemplify what love, acceptance and understanding look like— regardless of why a neighbor may be seeking services. 
Is there anything that stands out to you that you've learned over the course of your career?
I've seen that there's no one mold… The day that someone turns to a food pantry is not a good day for them. We live in a society that encourages independence and not asking for help, but that's just not possible for so many people at one point or another in their life. To accept people at different levels of crisis and provide a dignified experience, a welcoming smile and a kind word— it can be really transformative for someone who is having what may be the worst day of their life. It's people like you and me who go to work every day, but some days that's not enough. It may be someone who lost their job, or they're getting a divorce, or they left an abusive relationship, or they have a child with significant medical needs and they can't handle the bills– social services are truly for everybody. 
What drew you to Network?
I'm truly passionate about the work we do here. Our services span from the youngest of the young to the seniors of our community. Everyone- regardless of age or stage- deserves to live with dignity and have their basic needs met and feel like a part of the community. Network is the community for many people, and it's a privilege to provide that. 
What are your hobbies outside of work?
Family is really critical to me, so finding time to spend with my husband and daughter is a big one. My daughter loves to go to the Perot museum. We also love to go to the Children's Museum, and every time we go she brings her little T-Rex toy so that she can show it to the big T-Rex. When the weather's nice, you may find us at the zoo. We love to feed the giraffes, so just a lot of having fun and making memories together.
I also love to do flower arrangements. There's something really special about picking something up from the store and seeing how you can transform it into something beautiful that truly lights up a room. That's my creative outlet, and I think everyone needs something like that where they can express themselves. . 
Last but not least, what's the best piece of advice you've ever gotten?
That's hard because I've gotten a lot of great advice over the course of my life! I think that different advice is relevant at different times, but one that stands out to me right now— particularly as a mother and an executive— is that there's no such thing as work-life balance- at the end of the day you're going to be left with the question of if it's worth it. For me, to be able to serve my community in this way is definitely worth it. On long days or the days with high heels or when the first time I see my daughter in a day is when I'm kissing her good night, I remind myself that it's worth it. 
I also love the saying that there are years that ask questions and years that answer. We get so caught up in the day to day that it can be hard to look at the holistic path that we're on. I try to live my life in a way that makes me think about what I want them to say when they write my obituary. I don't necessarily want to be great or some big figure, but I think of the Nelson Mandela quote that says "You can start changing your world for the better daily, no matter how small the action." I think that if I can do something small every day to help my community, then I'm on the right track.